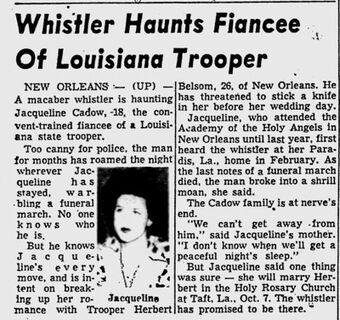 A portion of a newspaper article on the spooky whistler.
Ah, Louisiana. A place of culture and spirit. The home of Mardi Gras and The Big Easy. Beneath its cultural flare however, Louisiana has had a pretty rough history. Back in the 1910s, the state's most famous city—New Orleans—was terrorized by an axe wielding maniac who became known as "The Axeman of New Orleans". That's a story for another day though. For now, we're taking a trip thirty years beyond that into the swell year of 1950. The Cold War was going on, the swell nature of the neighborhood was at an all-time high, and the Civil Rights movement was at the forefront of the news whenever the Soviet Union wasn't threatening to nuke us into oblivion.
However, within the confines of Paradis, there was a little story that was about to be birthed. One that to this day remains a little gem in the cavalcade of unsolved mysteries. It is simply known as
The Phantom Whistler of Louisiana
.
Jacquelyn Cadow was an eighteen year old woman who was in a relationship with a state trooper by the name of Herbert Belsom. On a night like any other in February of 1950, Jacquelyn was laying in her bed when she began to hear whistling form outside that sounded similar to that of a wolf. After this began, the house that she shared with her mother was broken into, though nothing was stolen. Although Jacquelyn reported the events to authorities, nothing ever came of it.
Night after night, Jacquelyn heard the whistling coming from outside of her window. That is, until she announced her engagement to Herbert Belsom. It was then that the whistling ceased. On the flip side, the phantom whistler didn't leave. Instead, he respecced from the Wolf Whistle talent to the Funeral Dirge one and began to whistle in that tune.
Indeed, the quote unquote "phantom whistler" began to whistle a much more menacing tune outside the house of Jacquelyn. As if that wasn't enough, the man also began to phone her home and made threats of physical violence if she went ahead with the marriage; each call ending off with the promise to "stick a knife" in her. Unphased by this, Jacquelyn kept her engagement to Belsom. As a result, her nights were plagued by both the whistled tune of funeral dirges and even "bloodcurdling moans".
Still unphased by the repeated sleep disturbances, Jacquelyn marched on with her life. That is, until one day when she wasn't the only to hear the whistler. Her mother, an aunt, and a state-item reporter from New Orleans also heard the sinister phantom's haunting tune. It was this that caused her to end up collapsing. Without hesitation, Herbert and the reporter both rushed outside and investigated the yard, but couldn't find anything or anyone. An investigation launched by the state police and sheriff's office also came back empty handed. It was like the whistler was, indeed, a phantom.
After recovering from her collapse, Jacquelyn went to stay at a relatives house for a while in hopes that the whistler would be confounded by the lack of a very angered bride-to-be. However, to her dismay, the whistling followed her—still permeating from outside the window of the room she slept in. Freaked out, but not willing to surrender herself to the phantom, Jacquelyn fled to the parents of her fiancé's house. It was here that Jacquelyn's mother received a telephone call.
"Tell Jackie I know she's at Herbert's house."
I'm unable to find out if she actually told Jacquelyn the message. Regardless, on October 1st of that year, Jacquelyn and Herbert married. Supposedly, the whistler said that he'd be at the wedding. If he was, he never made it known and he vanished without a trace… supposedly.
Before we get to theories, I want to make something known as it can be taken one of two ways and both play into the theories. The Sheriff of Paradis came out at one point to say that he believed the "Phantom Whistler" to be nothing but "hoax and an inside job". After this, he clarified by saying that he
knew
who the whistler was, but refused to disclose the name of the perpetrator as to not embarrass those involved.
With that said, the first theory is that it was, indeed, an inside job/hoax. As for
who
did it, I can't say for certain. Perhaps it was Herbert. I honestly can't say for certain as I've never been able to find any suspects and I know nothing of Jacquelyn's life.
The second theory is that it was a jealous man who wanted Jacquelyn for himself; a stalker of sorts. This, to me, is the most likely theory as the threats of violence fit in with some warped version of Romeo and Juliet; the would-be lover envious of Herbert and wanting nobody to have Jaquelyn if they couldn't have her. That said: who would it be? I didn't mention any suspects as I've never found any, though I personally wonder if it was a relative of the Sheriff.
That's all I have for theories unless you wish to throw a ghost or alien into the fray. I, for one, think it was a relative of the Sheriff. Though we may never know as the "suspect" that he had has never been publicly named and it's unlikely he ever will be because I don't know if they keep case files backed up anywhere down there. What I do know is that there is a house in New Orleans they call the Rising Sun.